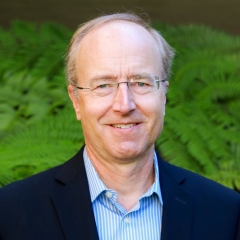 NAE, NAI
Fred Kavli Distinguished Professor, Electrical & Computer Engineering
Disinguished Professor, Materials
Contact
2221C Engineering Sciences Building
University of California, Santa Barbara
Santa Barbara, CA 93106
Materials Research Areas:
Honors:
Fellow, Institute for Electrical and Electronics Engineers
Fellow, Optical Society of America
Fellow, American Physical Society
OSA Holonyak Prize
IEEE LEOS William Streifer Award
Research Description:
John Bowers is a world-leading researcher in the areas of silicon photonics, optoelectronics, energy efficiency and the development of novel low power optoelectronic devices for the next generation of optical networks. His research interests include silicon photonics and integrated circuits, fiber optic networks, thermoelectrics, high efficiency solar cells, and optical switching. Optical switches have the potential to reduce the energy required to switch data by factor of 10,000. Silicon photonics have the potential to reduce the energy require to transmit data on and off chips by a factor of ten or more. A recent collaboration with Intel led to the development of hybrid silicon lasers, which led to a prototype 50 Gbps high-speed optical data link, which is integrated onto silicon.
Education:
Ph.D., Stanford University
M.S., Stanford University