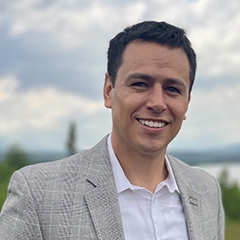 Assistant Professor, Materials
Contact
University of California, Santa Barbara
Santa Barbara, CA 93106-5050
Materials Research Areas:
Research Description:
Prof. Oropeza's research aims to understand the influence of manufacturing processes on material microstructure and performance, with the purpose of informing process optimization and developing novel techniques to control material behavior. His work couples fundamentals from material science and mechanical engineering, spanning the study of material synthesis and characterization, machine and equipment design, and manufacturing process fundamentals. Current research interests include powder synthesis of novel refractory and magnetic metal alloys with an emphasis on controlling material purity, spatially-tailored deposition of functional ceramics via nanoparticle jetting through novel ink synthesis and exploration of processing fundamentals, control of porosity in metals via powder bed fusion additive manufacturing, and processing of ultra-high temperature ceramics via binder jet additive manufacturing and pressure-assisted sintering. Relevant application areas include aircraft and spacecraft propulsion, prosthetics, energy conversion and storage, robotics, and hypersonics.  
Education:
Ph.D. in Mechanical Engineering, Massachusetts Institute of Technology
M.S. in Aeronautics and Astronautics, Stanford University
B.S. in Aerospace Engineering, The University of Texas at Austin