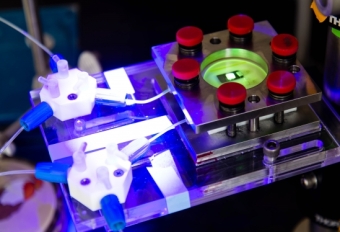 Wednesday, September 14, 2016
From the article "Efficiency pluse Versatility" in the UCSB Current: 
Antimicrobial cutting boards. Flame-retardant carpets. Friction-resistant bearings. Engineered surfaces add value to the things we use, providing extra layers of safety, easing their operation, preserving their quality or adding utility.
At UC Santa Barbara, materials researchers are looking to greatly improve on the concept with a method of micron-scale surface chemical patterning that can not only decrease time and money spent in their manufacture, but also add versatility to their design. In a paper describing a method called "sequential stop-flow photopatterning," UCSB materials scientists describe a new platform for functionalizing and engineering surfaces with patterned polymer brushes.
"It's a really powerful tool you can use for many purposes," said Christian Pester, a postdoctoral researcher in the Craig Hawker Lab at UCSB. He is the lead author of the paper, which appears in the journal Advanced Materials.
Please read the entire article at the UCSB Current.