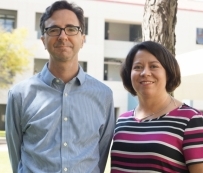 Friday, September 23, 2016
From the UCSB Current article "Next-Generation Thermoelectrics": 
Imagine charging your cellphone anywhere without having to plug in. Or barely breaking a sweat outside in the middle of summer. How about using a high-performance personal computer that cools its own components?
These ideas, and many like them, may be the realities of the not-so-distant future, thanks to UC Santa Barbara chemical engineering professor Rachel Segalman and materials professor Michael Chabinyc. Funded by a $900,000 grant from the U.S. Department of Energy, the researchers will investigate ways of improving thermoelectric performance in polymeric materials. Their work may yield new materials that can turn heat into energy or — vice-versa — energy into heating and cooling.
Polymers are usually used as materials for plastic wrap or cell phone cases, but they can also be made to conduct electricity or ions, like sodium. Segalman and Chabinyc are seeking to understand how electrical and ionic charges can be used to form new types of thermoelectrics.
Please read the entire article at the UCSB Current.