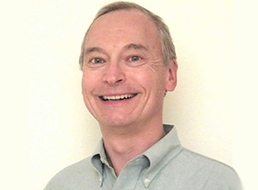 Chris Van de Walle, a distinguished professor in UC Santa Barbara's Materials Department, has received a 2022 Vannevar Bush Faculty Fellowship (VBFF) from the U.S. Department of Defense (DoD), one of only nine such fellowships awarded this year. The five-year fellowship, considered the DoD's most prestigious single-investigator award, is aimed at advancing transformative, university-based fundamental research and includes over $2.5 million in funding. Van de Walle will develop new computational approaches to enhance the efficiency of electronic and optoelectronic devices based on wide-bandgap semiconductors.
"I am extremely honored to be selected for this award," Van de Walle said. "I have been very grateful for the support that DoD has provided for a number of my previous and ongoing research projects, but the freedom and five-year time horizon of the VBFF will allow me to pursue approaches that do not fit within the frame of typical, more focused, three-year grants."
Van de Walle joins an elite cadre of approximately fifty VB fellows from across the country, including three professors in UCSB's Materials Department, Chris Palmstrom (2015 Fellow), Susanne Stemmer (2016 Fellow), and Tresa Pollock (2017 Fellow).
"We are extremely proud of Professor Van de Walle, and we congratulate him on receiving the Department of Defense's most prestigious research grant," said Pollock, interim dean of UCSB's College of Engineering and Alcoa Distinguished Professor of Materials. "His computational materials research has already made significant contributions to the fields of semiconductors and optoelectronic devices. This fellowship allows him to pursue more leading-edge work that could have an even greater impact on the world's engineering community and our society."
Building on his considerable expertise in modeling recombination mechanisms, Van de Walle will study the processes that limit the efficiency of light-emitting diodes, lasers, and other optoelectronic devices. Better understanding of these limits will allow unprecedented improvements in performance, which is particularly crucial for applications in the ultraviolet (UV) range of the spectrum; solid-state UV light emitters have tremendous potential for disinfection and water purification, but their widespread adoption is contingent on enhancements in their efficiency.
The methodologies Van de Walle plans to develop will also impact modeling of other devices, including electronic components that can operate at high voltages and currents and enable more efficient generation, conversion, and transmission of electrical power. Other applications include scintillators, which play a key role in radiation detection, and phosphors, which convert UV into visible light.
 
Along the way, the computational approaches will be validated through experimental collaborations. "I am extremely fortunate to have the opportunity to work with my experimental colleagues here at UCSB, who are recognized as world-leading experts in nitride- and oxide-based semiconductors," observed Van de Walle. "I am certain that this uniquely collaborative setting was a big factor in DoD awarding the fellowship."
 
The DoD emphasizes that the VBFF program is oriented towards bold and ambitious "blue sky" research that will lead to extraordinary outcomes or disrupt accepted theories and perspectives. "I truly hope to live up to the expectations of the award," concluded Van de Walle; "I have always chosen my research projects with the goal of impacting important technologies, and I am excited by this tremendous opportunity to develop future new capabilities."
An elected member of the National Academy of Engineering, Van de Walle is also a fellow of the American Physical Society, the Institute of Electrical and Electronics Engineers, the American Association for the Advancement of Science, the Materials Research Society, and the American Vacuum Society. For the past five years, he has been named a Highly Cited Researcher by Clarivate Analytics, identified in the top one percent of his field based on citations, a reflection of the sustained impact of his group's research.