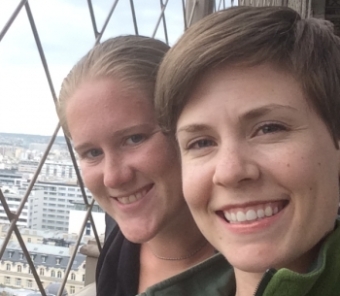 Wednesday, January 13, 2016
Materials Ph.D. students Malinda (Mandi) Buffon and Megan Butala each won a poster award at the International Chemical Congress of Pacific Basin Societies 2015, held in Honolulu, HI in December. Mandi won an award for her poster on "Nanograined half-Heusler TiNiSn for thermoelectric applications" in the topic area of Materials & Nanoscience and Megan won an award for her poster on "Pyrites for conversion batteries: The effects of cation chemistry on electrochemical performance" in the topic area of Chemistry of Clean Energy Conversion, Storage, and Production. 
Mandi and Megan are two of the recipients of the 54 poster prizes awarded from a field of 353 finalists, and over 3,000 entrants. 
To read more about the Pacifichem Conference, please click here.