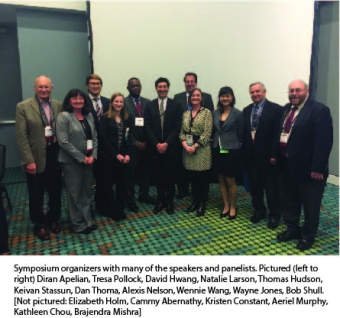 Update: An article on the student-led diveristy symposium at TMS 2016 is featured in the June issue of Journal of Materials. 
This story was originally published on May 10, 2016. 
Materials Department graduate students Wennie Wang, Natalie Larson, and David Hwang organized a day-long symposium, "Transforming the Diversity Landscape," at the TMS 2016 Annual Meeting and Exhibition held in February in Nashville, TN. They were inspired by their experiences as members of Graduate Students for Diversity in Science at UCSB and attendance at the Diversity in the Minerals, Metals, and Materials Professions (DMMM1) Conference held by TMS in July 2014. Realizing that increasing diversity and inclusion in STEM requires participation of the entire STEM community, they organized the broadly accessible symposium to communicate the benefits of increasing diversity and to empower individuals to do so in their communities. 
While attending DMMM1, Natalie and Wennie learned about challenges of increasing diversity in STEM and participated in discussions with leaders in the materials community. During a DMMM1 networking event, they expressed interest in leading a symposium for the broader materials community and learned about the opportunity to organize a student-led symposium at the TMS 2016 Annual Meeting and Exhibition. Wennie, Natalie, and David worked with UCSB Materials Department Chair Prof. Tresa Pollock to bring the symposium to life - inviting speakers, organizing a panel, and requesting abstracts for talks. 
The morning session of the symposium highlighted the significance and impact of diversity. In her keynote address, Elizabeth Holm, Chair of the DMMM1 conference, engaged the audience with quantitative analysis of the current diversity landscape and the positive impact diversity has on teamwork and creativity. Later speakers further highlighted the importance of diversity for innovation, the challenges of implicit biases and micro-aggressions, and the value of outreach and mentoring. 
In the afternoon session, the discussion focused on the development of action plans to increase diversity in STEM. Programs from several institutions that educate students and influence university policies about diversity were presented. Keivan Stassun closed the session with a talk on the success of the Fisk-Vanderbilt Master's-to-Ph.D. Bridge Program, which funds M.S. students from Fisk University, a historically black university, and fast-tracks them into funded Ph.D. positions in materials science, physics, and astronomy at Vanderbilt. Stassun also explained how measuring success in graduate school via the GRE is biased by race and gender, and proposed an alternate graduate school admissions process. The symposium closed with a panel of past TMS presidents, who discussed their experiences with diversity in STEM, highlighting changes they observed in diversity throughout their careers. 
Upon reflection, Wennie, Natalie, and David were extremely impressed by the enthusiasm and energy of the speakers and audience at the symposium: "There were so many questions and interesting discussions after each talk that it was difficult to keep on schedule throughout the day! Individual discussions continued through the session breaks, and we were excited that our speakers and audience were so engaged. In future symposia and diversity events, we plan to schedule more time for questions and networking to encourage these discussions."
As the symposium organizers, the students gained experience defining and discussing diversity and inclusion, and learned about strategies to improve diversity policies, address micro-aggressions, and support under-represented groups in STEM. Inspiring the TMS leadership to promote future student-led symposia and become more involved in diversity and inclusion was also a valuable result of the symposium. 
To continue the momentum generated at TMS 2016, Wennie, Natalie, and David plan to attend DMMM2 in Evanston, IL this summer. They also look forward to actively engaging the local and broader communities to improve efforts toward creating a more diverse scientific community at UCSB and beyond.