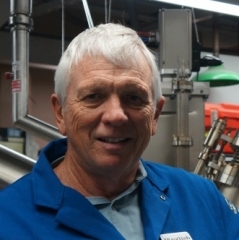 John English is an unassuming man who cultivates lifelong relationships. He pretends to be gruff, but he's actually a pretty nice guy. And he's always making wisecracks. John is also, of course, extensively technical – he is a co-author on 223 technical publications – and is largely credited with building the Molecular Beam Epitaxy (MBE) Laboratory at UCSB. Two years ago, John, known fondly as The Silver Fox, retired. But, that's getting ahead of the story. 
John grew up in western Pennsylvania, where he learned the spirit of hard work from his father and the meaning of leadership and diplomacy from his younger siblings. Even as a kid, he knew being smart is more than just getting good grades – it's also having the good sense to take the seat in the classroom by the pot-bellied stove, in preparation for the snowy winter. Upon graduation from high school in 1967, John, green and adrift, enrolled in a two-year technical college to pursue electronics. 
As John was finishing his two-year degree, Bell Laboratories, in an unprecedented event, hired three technicians from the technical school. So at the age of 19 John left home for the first time, moved to New Jersey, and began his career at Bell Labs. After a massive dose of culture shock, John spent 16 years fostering his education by taking electrical engineering courses at night and advancing his career by capitalizing on the internal classes offered at Bell Labs. He also built relationships and accrued rich experiences, which served him well when he heard that a leading scientist, Art Gossard, was in need of a new lab technician. Two years later, when Art was offered a position in the Materials Department at UCSB, his only request was to bring John English with him.
When John arrived at UCSB, the MBE lab needed a dedicated technician. Herb Kroemer, impressed with the research accomplished experimentally with MBE, had acquired an early generation MBE system. Herb also received a newer system as a gift from the manufacturer. Larry Coldren won a contract to buy a third MBE machine. The stage was set for John to manage an unconventionally structured lab: three machines for three professors, each with a set of graduate students, sharing one space. John's ability to expertly run the lab - adhering to safety standards, training students, and maintaining the MBE machines - was immediately appreciated. 
After John arrived, the MBE lab continued expanding. Art, Herb, and other colleagues won a grant from NSF for a Science and Technology Center, which funded further growth of the lab, and more machines were acquired. The growth attracted more faculty to UCSB, which increased the number of students using the lab. John's natural ability to collaborate with a variety of people from diverse backgrounds was increasingly valuable as he single-handedly juggled his growing responsibilities. Ultimately, the MBE lab procured three additional MBE machines, bringing the total number of machines in the lab to eight. 
To understand the magnitude of managing a laboratory with eight MBE machines, multiple faculty, and countless students, a basic understanding of MBE is necessary. Each machine in the lab deposits layers of semi-conducting material onto substrates to create structures, atomic layer by atomic layer, ranging in thickness from a few atoms to about one micrometer. The precision of an MBE machine requires careful handling, proactive maintenance, and expertise. The internal vacuum in an MBE machine must be held rigorously to eliminate any dirt or moisture from entering the closed environment. Ideally, to generate the highest quality material possible, a long, error-free growth campaign is needed. Keeping eight MBE machines in the lab running without interruptions is an incredible challenge.
The success of the MBE lab, largely regarded as the biggest and best academic MBE facility, was possible because of John. Naturally, the faculty were teaching classes, attending conferences, writing grants, and frequently away from the lab. But the research progressed, thanks to John.  He taught the students how to perform growth campaigns and to care for the large, expensive, complex equipment comprised of fragile parts. All of this, John did exceedingly well. 
John's relationship with the students is unique, and, in fact, envied by many. His knack for welcoming students, putting them at ease, and giving them a place to belong is cherished. Students relish being in John's presence, absorbing knowledge and gleaning guidance.  After students graduate and pursue careers, many of them prioritize visiting John when they come to town.  
The bottom line is that John possesses unmatched people skills that complement his incredible technical skills. Students come to John panicked about fantastic research directives expected on impossible timelines handed down from their advisors and leave calmed and reassured. John, with his biting humor and unflappable demeanor, reminds the students that the research will move forward, progress will be made, degrees will be granted. He provides balance to the academic pressure and constant pursuit of knowledge. He is proof that a person can be technically savvy, incredibly successful, and ridiculously friendly. 
Two years ago, after nearly thirty years of building his MBE empire at UCSB, John retired. Much to the delight of those that know him, John continues to work in the lab two days each week. What he does with the rest of his time is John's current challenge. John enjoys playing cards a few times each month and he keeps giving golf a try, but his self-diagnosed lack of patience is not helping his handicap. So, John comes into the lab twice a week. He returns to the research, to the students, to the place where for almost three decades he gave his tireless energy, shared his unique flavor of humor, bestowed immense quantities of knowledge upon others. Yet, to hear John tell it, he insists that he received much more than he ever gave. And that might be why the legacy of John English will live for decades to come.