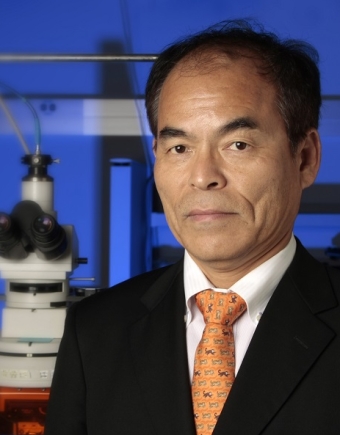 Professor Shuji Nakamura has been selected for the 2015 Charles Stark Draper Prize of the National Academy of Engineering. Along with Isamu Akasaki, M. George Craford, Russell Dupuis and Nick Holonyak Jr. the prize is being awarded for "the invention, development, and commercialization of materials and processes for light-emitting diodes (LEDs)." The $500,000 annual award is given to engineers whose accomplishments have significantly benefited society. The prize will be awarded in Washington, DC in February. Please join me in congratulating Shuji for another major award.
"I am honored to recognize the recipients of the 2015 Draper Prize for their groundbreaking work on light-emitting diodes," said NAE President C D. Mote Jr. "These prize-winning engineers were the pioneers in a technology that has changed the world we live in from the aesthetics in our homes, to advancements in our visual capabilities, and to environmental stewardship."
LEDs are used by billions of people on a daily basis through applications like computer monitors, cellphone screens, TVs, traffic lights, home lighting, digital watch displays, medical applications, and many more. The $33 billion LED industry has stimulated global job growth and dramatically lowered the cost of energy. In 2012 alone, more than 49 million LEDs were installed in the U.S., with an estimated annual savings of $675 million in energy costs. In 2013, LEDs in general lighting applications saw a rapid growth, saving the U.S. more than 12 million tons of CO2 emissions. LEDs also produce the greatest amount of light for the energy used, and have the longest lifetime of any lighting source available.