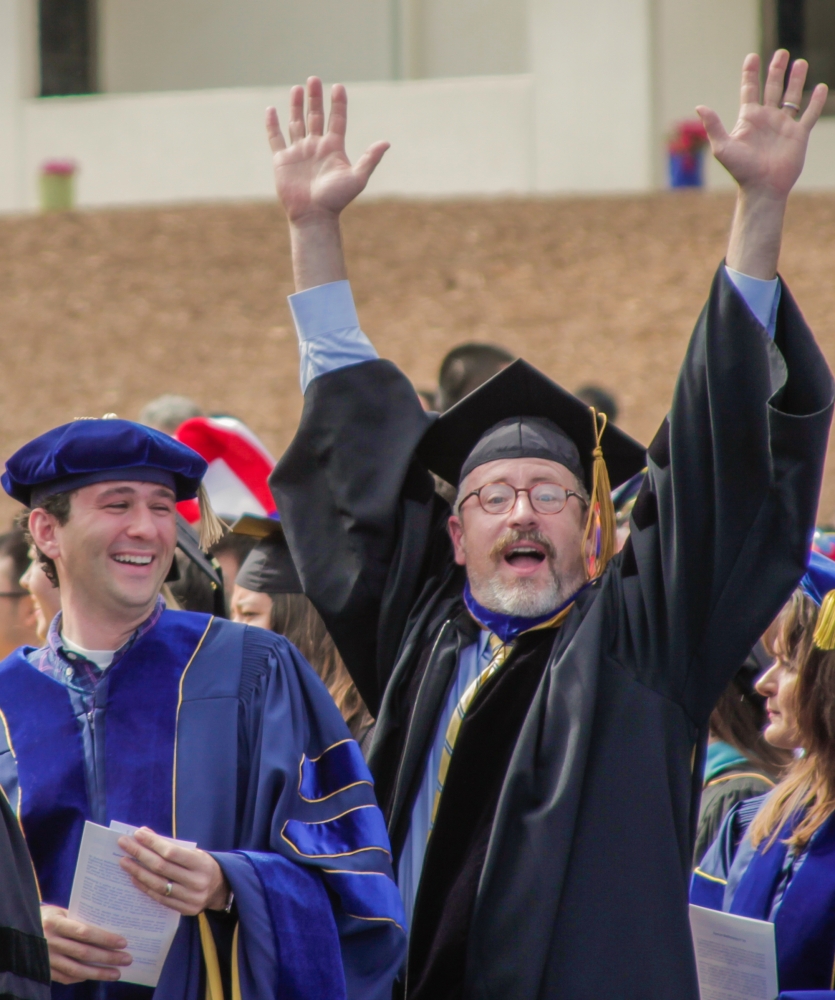 Graduation, Spring 2016. Materials Professor Matthew Begley attending the ceremony to hood a graduating Ph.D. candidate. 
On the path of great achievement
Congratulations!
Please join us in congratulating our most recent Materials Ph.D. graduates. 
Spring 2017
Steven Brown, Morphology-dependent Optical Anisotropies in Organic Semiconductors, advised by Prof. Chris Palmstrøm
Malinda Buffon, Heusler Materials for Thermoelectric Applications: Phase Separation, Atomic Site Disorder, and Interstitials, advised by Prof. Ram Seshadri
Megan Butala, Alternative Chemistries and Architectures for Electrochemical Energy Storage, advised by Prof. Ram Seshadri
Michael Gotrik, In Vitro Directed Evolution of Fluorescence-Enhancing and Structure-Switching RNA Aptamers, advised by Prof Tom Soh
Steven Griffiths, Bulk Group-III Nitride Crystal Growth in Supercritical Ammonia-Sodium Solutions, advised by Prof. Shuji Nakamura
Andrew Pebley, Microplasma Jet Synthesis of Ni-Fe Oxide Films for Magnetic Exchange Bias and Electrocatalytic Studies, advised by Prof. Tresa Pollock and Prof. Michael Gordon
Tiberiu Stan, The Role of Oxides in Nanostructured Ferritic Alloys and Bilayers: Interfaces, Helium Partitioning and Bubble Formation, advised by Prof. Robert Odette
Winter 2017
Alan Liu, Quantum Dot Lasers Epitaxially Grown on Silicon, advised by Prof. John Bowers
the future leaders today
The students in the Materials Department are driven to be the next leaders for tomorrow's materials. Helping them towards that goal are advisors and professors who direct the students towards opportunies to achieve recognition for exceptional research, scientific breakthroughs, and excellence in oral and written communication. The Department takes great pride in sharing the success stories of the achievements of the students. 
June 13, 2016 - Materials Ph.D. student Marissa Lafata receives International Symposium on Superalloys Scholarship. Please read more about the scholarship. 
May 25, 2016 - Materials Ph.D. student Tom Nizolek was awarded the Angew National Security Fellowship. Please read more about the award and Tom's future plans. 
May 10, 2016 - Materials Ph.D. students led diversity symposium at TMS 2016 Conference. Please read about the diversity leadership of Wennie, Natalie, and David. 
May 2, 2016 - Congratulations to our Winter 2016 Materials Ph.D. graduates! Please read more here.  
April 1, 2016 - Three Ph.D. students awarded NSF Graduate Student Fellowships and two received Honorable Mentions. Please read more here. 
Please read all of our student achievement stories.