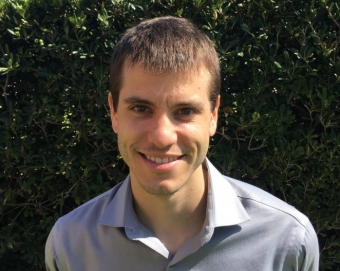 UCSB Materials will welcome Assistant Professor Chris Bates on July 1 to the Macromolecular and Biomolecular Materials research group. 
Prof. Bates's research sits at the intersection of chemistry, materials science, and physics, leveraging a variety of synthetic and physical experimental techniques to design, create, and probe the structure and properties of soft matter. Current endeavors span a variety of topics including polymer mesostructure and dynamics, energy storage, and crystallization. Students in his research group will gain proficiency with numerous techniques useful in both academic and industrial settings, including small molecule and macromolecule synthesis, scattering and diffraction, rheology, electrochemistry, and thin film engineering. 
The primary goal of Prof. Bates's research program is student development: nucleating and fostering internal motivation to learn through access to a world-class research environment. He believes that the knowledge gained by the undergraduate, graduate, and postdoctoral students associated with the Materials Department at UCSB will serve them well as future leaders in the scientific community. 
Prof. Bates is very much looking forward to integrating into the UCSB and Materials Department cultures and meeting the students.  He is especially eager to contribute to the collaborative environment that is a hallmark of the UCSB Materials Department. To Prof. Bates, UCSB exemplifies the spirit that fosters interactions between scientists at all levels. He views the synergy between students, faculty, and departments as clearly reflected in the campus-wide quality of education and research.
Prof. Bates comes to UCSB from the California Institute of Technology, where he was a postdoctoral scholar.  He received a Ph.D. in Chemistry from The University of Texas at Austin and a B.S. in Chemistry from the University of Wisconsin – Madison. 
Welcome Prof. Bates!!